Moving on to one of my favorite colours, we see Green this week! Take a look...
1. Swarovski Crystal Necklace by DorotaJewelry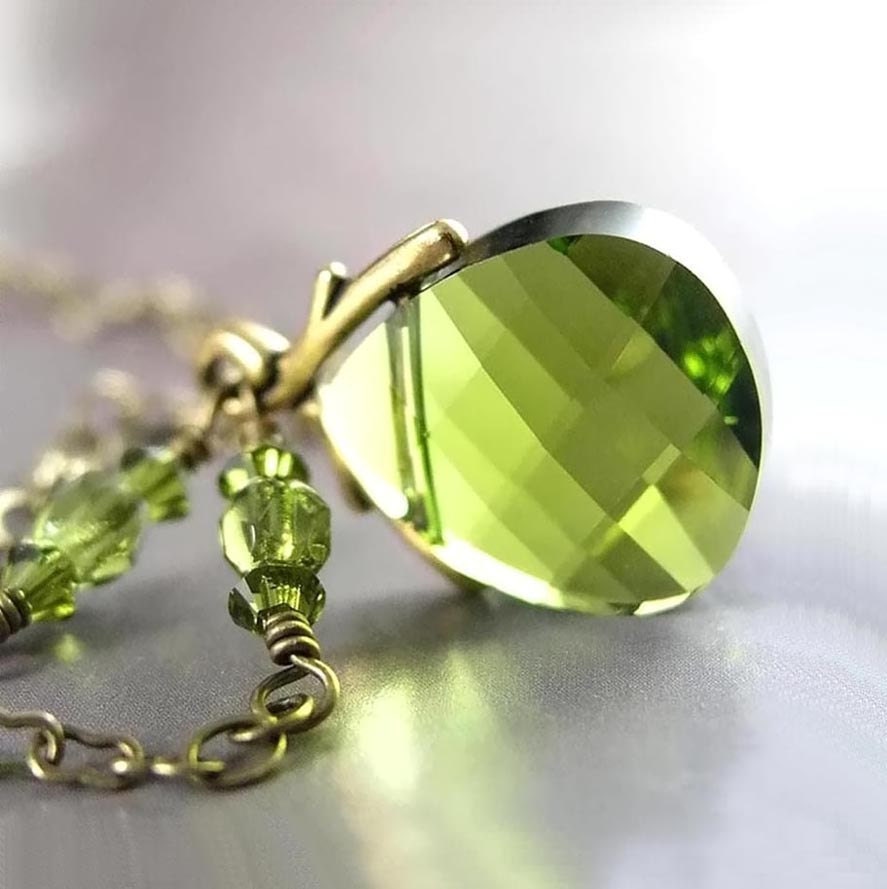 There are lots more pictures of this necklace on the site, but I especially like this one, because it shows off the main crystal so beautifully. This gold necklace features several beautiful swarovski crystals, as well as a darling clasp (this was my other choice to show off for the picture!) It is difficult to see how the main crystal is being held on to the piece in this picture, but it is fitted perfectly into a gold piece shaped like a twisted vine. It is really worth checking out. This piece sells for $32 USD.
DorotaJewelry is run by Dorota Sularczyk, out of Virginia, Maryland (although she is originally from Poland!) Dorota cites her main sources of inpiration as being her mother, who paints and restores antiques, and her hometown of Krakow, Poland. Dorota began selling her jewelry in "boutiques across Europe as well as the United States" in the 1990s, and has been running her Etsy shop since March of 2010.
2. Water-Resistant Nylon Bag by tippythai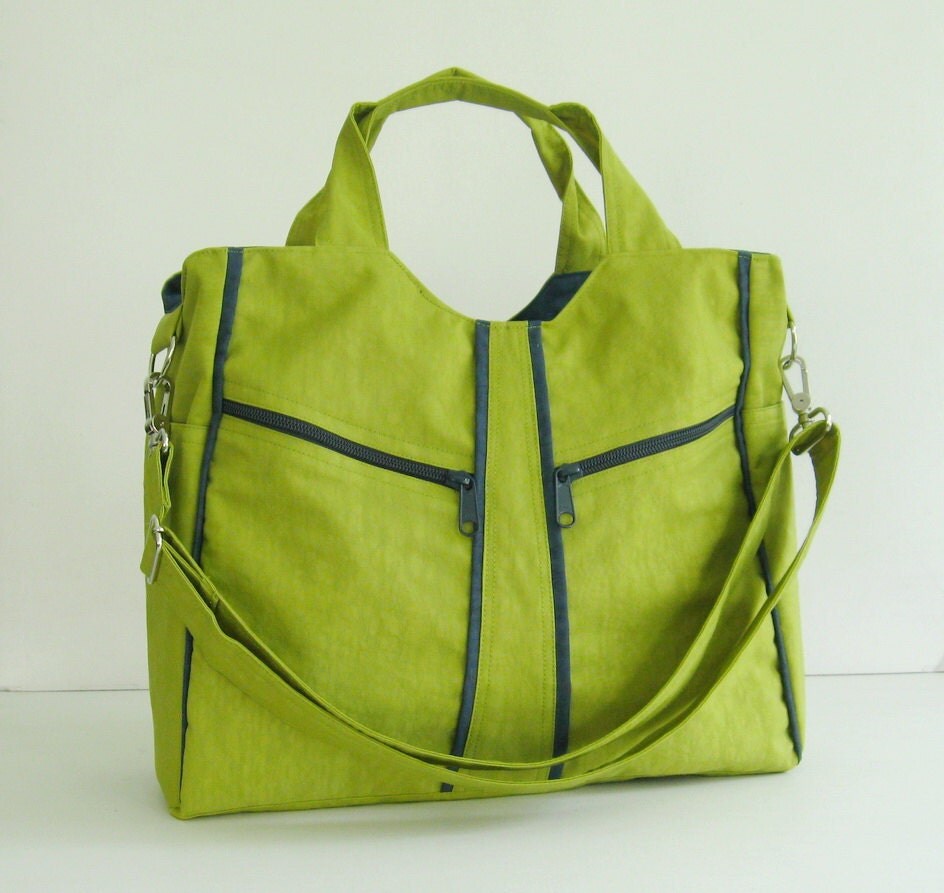 This adorable bag could be used for almost anything you like! Featuring both a handle and a shoulder strap, it is nothing but versatile. At 11.5" tall and 14" wide (at it's widest point), you can fit almost anything in it as well. Do you remember the leather-bound notebook from the
Orange Day
? I can easily visualize carrying that notebook, as well as various writing and drawing tools onto campus, and sitting down under one of the big trees... Oh wait, I've told you this fantasy already, haven't I?! :) This bag sells for $42 USD.
tippythai is run by Tippy, who lives in Chiang Mai, Thailand. Tippy makes a wide variety of items, including "soaps, picture frames, jewelry boxes", cards, oil paintings, and sewing - although she restricts her site to the bags and pouches that she makes to sell. Tippy has been running her shop since 2008, and has seen well over 10,000 sales since, and has over 20,000 "admirers" on Etsy.
3. "Moody Green" Print of Ireland by APCphotocreations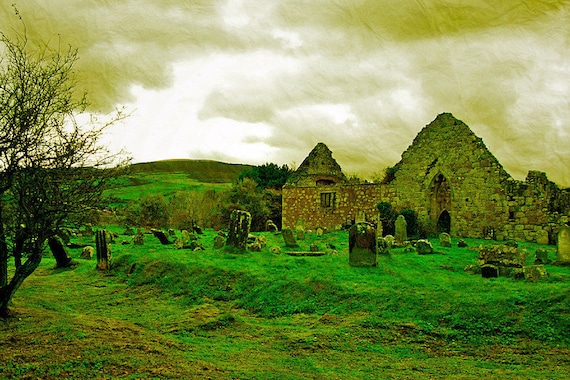 While I understand that this print is intended to be 'moody', I feel completely serene when I look at it. I can picture myself walking in that ancient graveyard, watching the moss and greenery springing back up after every step. I can see myself laying down on it when I got closer to the former church, and watching the clouds. Speaking of the clouds, they have incredible movement in this piece. They look like they are drifting by, just looking at the image of it on my page :) APCphotocreations sells this in four different sizes; this one in particular is an 8x10 selling for $35 USD.
APCphotocreations is run by Arlene Carley, out of Torrance, California. Her shop features well over 100 stunning pieces, all worth a second look. Arlene is a self-taught photographer, and creates a blog to go along with her photos: "
Finding Zen Through my Camera Lens
". Her blog tells the story behind each picture.
4. Knitting Bowl by JulieKnowlesPottery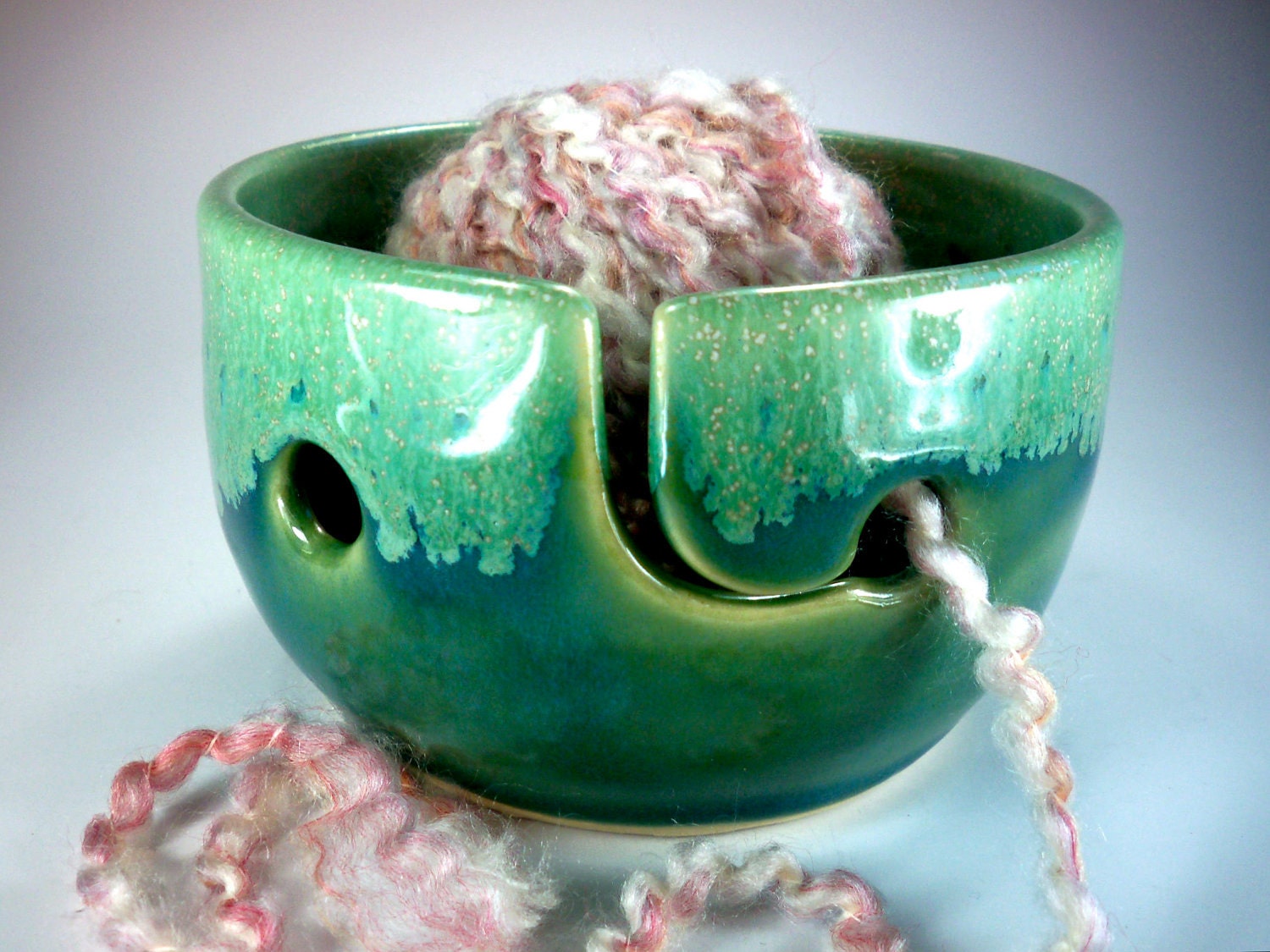 This gorgeous bowl allows knitters/crocheters to make a statement about their craft. It is a beautiful, modern, and fully functional, providing a practical, usable decoration for ones' room. Can you tell that I am trying to justify purchasing one of these? But mommy... it's just so... practical! The best part is you can use it for anything. You could use it for yarn, ribbons, twine... You could even use it as a pretty candy dish! No one would stop you. :) This sells for $30 USD.
JulieKnowlesPottery is run by Julie Knowles, out of the Verde Valley. She creates every item from scratch, meaning that each piece is one of a kind. Her pottery is microwave and dishwasher safe, and durable enough for frequent use.
5. Soft Baby Shoes by SweetpeasBumblebees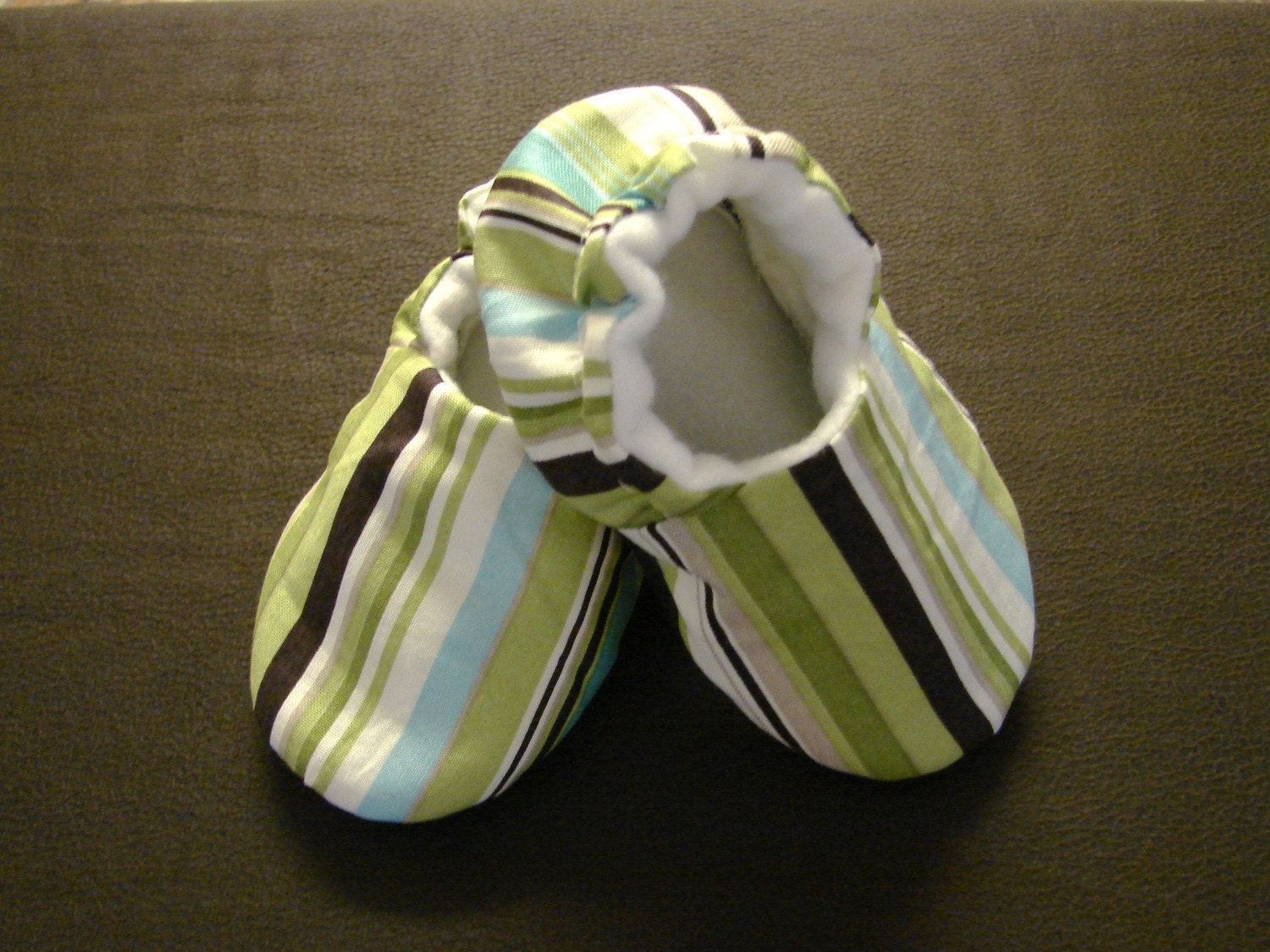 These little baby shoes are just so darn cute. The sole is made of suede, and they are lined in fleece. The cute design is meant for a boy, but could certainly also be worn by a little girl. There is elastic at the heel to keep these cute little numbers from falling off. They can be made to fit newborn to 18 mos. They sell for $12.50 USD.
Sweetpeas & Bumblebees is run out of Gulf Breeze, FL. The owner created this particular pair of shoes for her son. The shop specializes in custom orders, specifically custom size, fabric and embroidery. The shop features a wide range of baby items, including onesies, shoes, burpies, blanket sets, etc.