Good morning!
A wonderful Boxing Day to you. Are you going to take advantage of some of the Boxing Day sales?
Following last week's colour-themed Monday Treasures, today's colour is Orange. Now, I got lots of feedback after last week's post saying to "Please not take away the written part of the posts", and they they're "the best part of the post". So... the text is back. Enjoy!
1. Dahlia Flower Art Print by AldariArt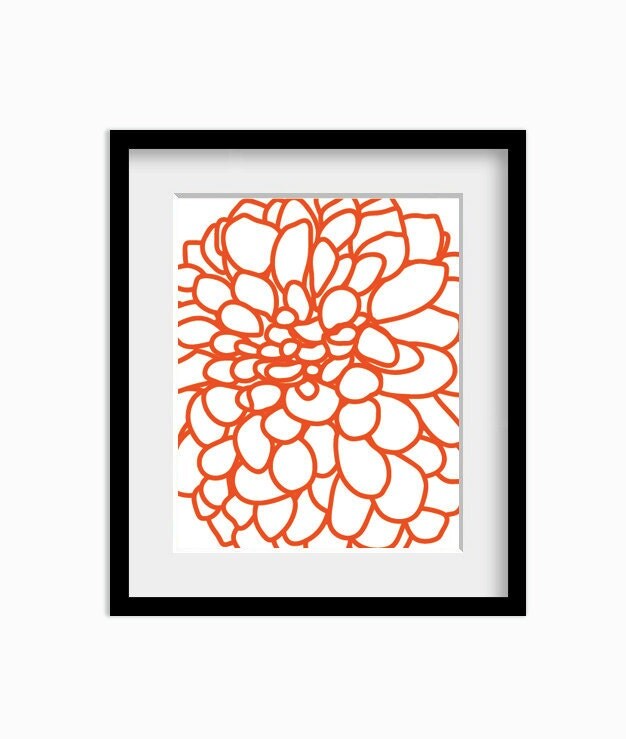 When I was looking up items to feature this week, this print jumped out at me immediately. Perhaps because of its ultramodern lines and perhaps because of its simplicity and vivaciousness, but I new that I loved this one. If I could remodel the house that I live in, I would definitely theme my living room around this print. Now interestingly, AldariArt has provided a color palette for you to chose from - you may have one of 20 different colours. You can also choose whether you would like the flower to be in colour and the background white (as shown here), or inversely, the background shown in colour and the flower white. This beautiful piece sells for a bargain - $18 USD per print.
The AldariArt shop belongs to Alejandra Rivera, who is originally from Mexico and now resides in Victoria, BC. The way she came up with her shop name and signature, Aldari, is very interesting. She says, "~Aldari~ is formed with the first two letters of my name and last names (Alejandra Danel Rivera) I've been signing my work this way since I was 15."
2. Super Hero Monkey Cloth Doll by murdockdesign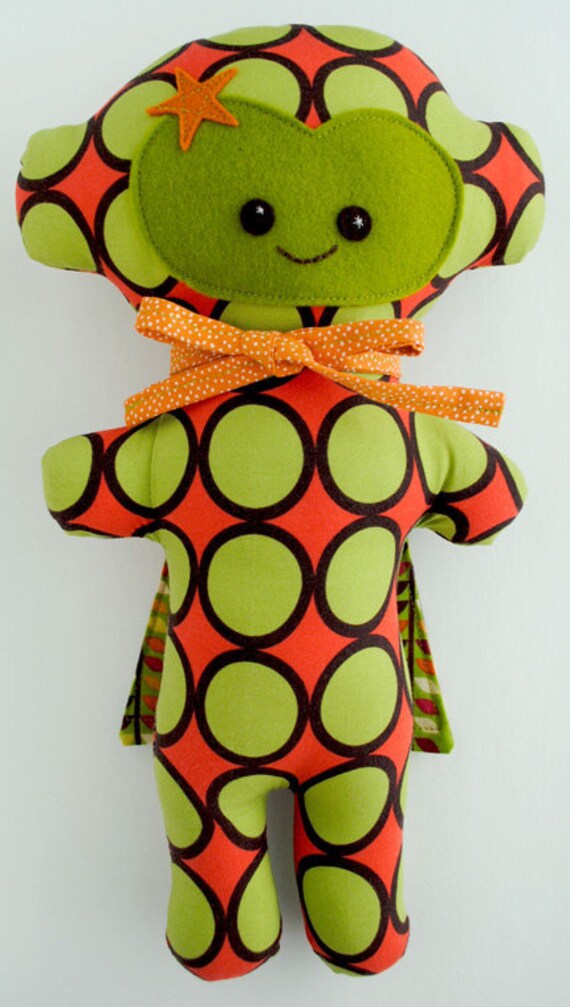 This uber-cute doll is perfect for children of any age, or a fun-loving adult in your life. The details are astounding, from the embroidered mouth to the twinkle stitched into its eyes. The adorable cape adds just the perfect bit of extra whimsy to make any mother or children-at-heart swoon. I was especially drawn to this little monkey because of its unusual use of patterns and colours - it reminds me of a certain stuffed elephant I featured a long time ago. This dashing little guy sells for $38 USD.
This little monkey is made by murdockdesign, which is run by Anne Murdock out of Northampton, Western Massachussetts. She features several whimsical designs in her shop, including other-specied friends to our monkey here, jewelry, and buttons among many other things. Crafting is a side-hobby for her, and she spends the majority of her time working on graphic design. She has been crafting for about three years, and credits her mother for her skill and talent in selecting 'just the right' fabric for each project.
3. Upcycled Necktie Wristlet Case by TearfulTouch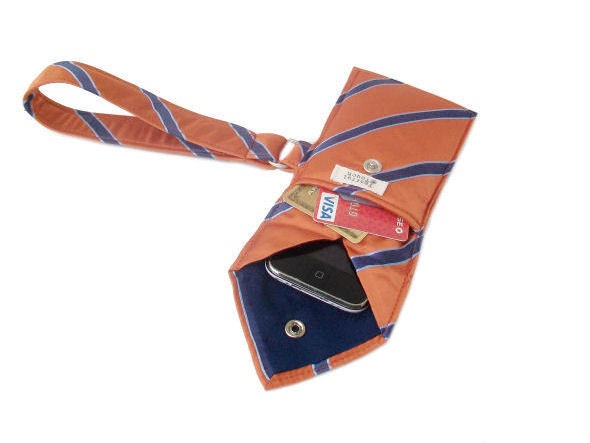 What a great way to use all of those amazing ties that can be found at Value Village and other thrift stores! This little wristlet has pockets to hold your phone or iPod, as well as room for some credit or debit cards... great for a trip downtown when you don't want to carry a whole big suitcase around with you. TearfulTouch offers this in several different fabrics (several different ties!), and even offers the ability for you to send a cherished tie to be converted. The wristlets sell for $20 USD.
TearfulTouch is a shop by Tonya, out of Southern California. Tonya has a real passion for what she does, and finds sewing very satisfying and rewarding. She has a
subscription link
available for anyone who wants to know what new items are being added to her shop on a day-by-day basis, and states that "new items are always blossoming".
4. Handmade Leather Journal by TheOrangeWindmill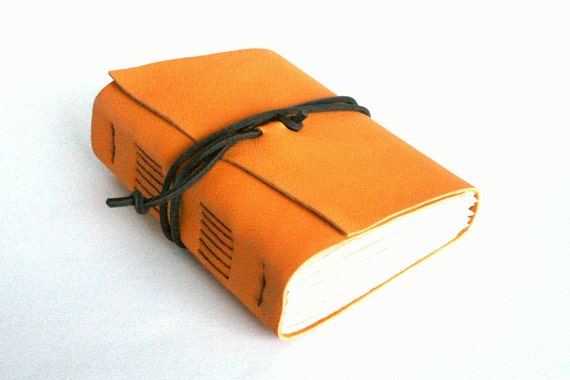 I love the idea of sitting under a tree with this notebook, writing down my thoughts, drawing, painting, whatever comes to mind. I can almost feel the paper under my fingers looking at this, and the smooth supple leather. The lambskin leather covers enclose 96 sheets of natural wausau 65 lb cardstock, acid and lingin free. This journal sells for $35.95 CAD.
TheOrangeWindmill is owned by Shirley Lynne of Hamilton, Ontario. She states "I am a dutch girl who loves all things homemade!" TheOrangeWindmill sells journals of different colours and sizes. Shirley makes each journal from scratch, individually tearing each sheet of paper and then creating a permanent leather binding to the leather spine. Shirley states that she enjoys the process of making each journal, as it provides some silence from her 3 and 1 year-old children.
5. Orange Trees Clutch by gracefulcrafts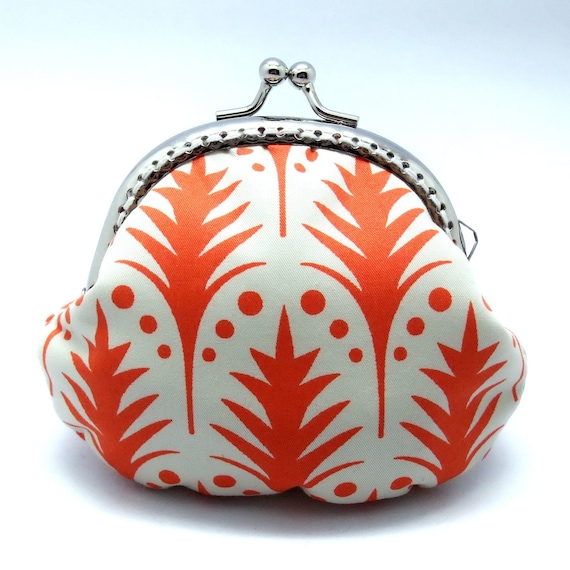 This cute little clutch would provide the perfect amount of punch paired with a burnt orange belt and your little black dress. This clutch is just big enough to fit your credit/debit cards, some change, and maybe a few sticks of gum and your keys. It sells for $15 USD.
Gracefulcrafts hails from Hong Kong. The shop features several different clutches of different fabrics, shapes and sizes. The shop owner also has another shop,
GracefulBanquet
, which features more specialized clutches and clutch sets, for weddings and special events.
6. Noveau Print Silk Scarf by scarveswithattitude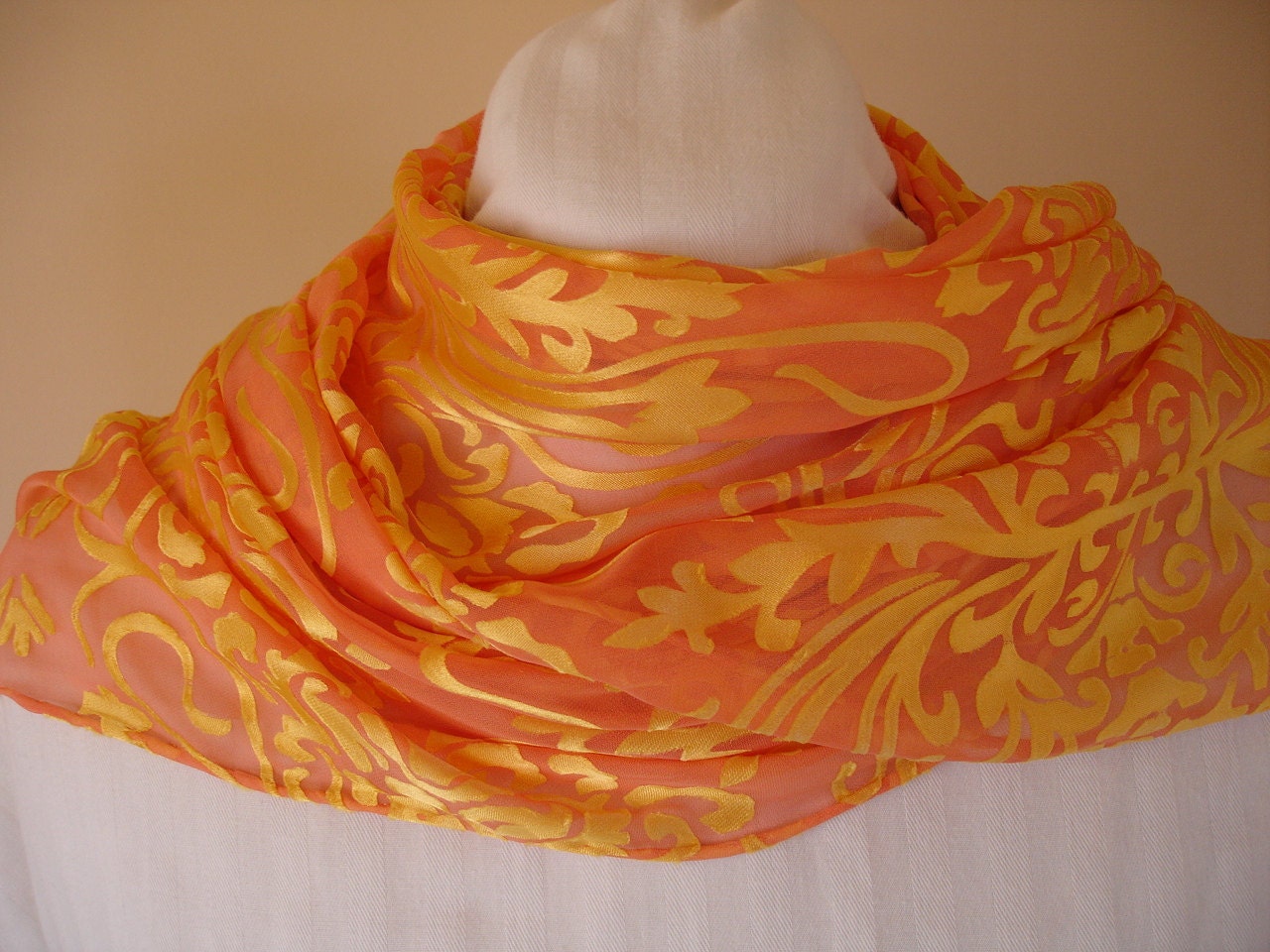 The base of this scarf is 100% silk, with an overlay of rayon. It is 13" wide, and 70" long. Each scarf is handmade, and none are quite the same. This scarf would look beautiful with almost any outfit. The particular shape of this scarf allows for an incredible amount of versatility. The scarves are being sold for $26 USD.
Scarveswithattitude is owned by a woman named Sarah, who lives with her dog Buddy, on a ranch near the Colorado River. She dyes all of her scarves by hand. Sarah also enjoys gardening, sewing, and making art (aside from scarves, photography, graphite, and charcoal are her favorite mediums.)
7. Tangerine Cluster Earrings by AnnalisJewelry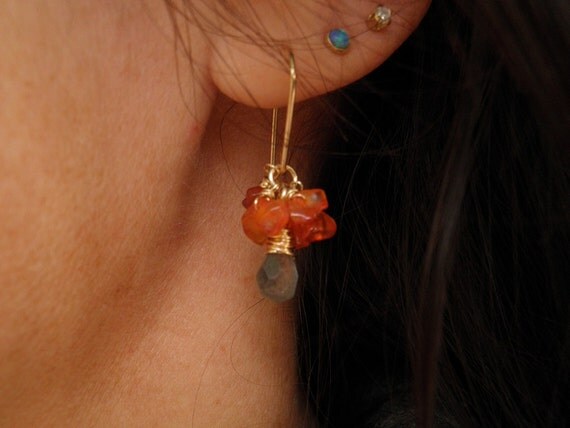 These cute earrings are hand-wrapped with 14k gold-filled wire. Each earring is 1.2 inches long, and consists of several "deep orange carnelian" beads, and one "grey labradorite teardrop briolette". I love how versatile this piece is. It could be worn as part of your office attire, with a formal dress, or with jeans and a sweater. It sells for $46 USD, and AnnalisJewelry also offers a
matching necklace
for $42 USD.
AnnalisJewelry is run by Annali and Limor Rafaeli, out of Tel Aviv, Israel. Annali's previous employment strikes a wide range, including Sport Therapist, Hydro Therapist, and Yoga Instructor. She now creates her jewelry full time. Limor Rafaeli is a jeweller who uses a special method in his jewellery so that it looks like it has been worn before. He says "Thanks to this technique, time betters and intensifies the look and presence of the jewelry, and gives it a unique quality, like good wine that improves with time."
8. Dark Orange Dress by JulyS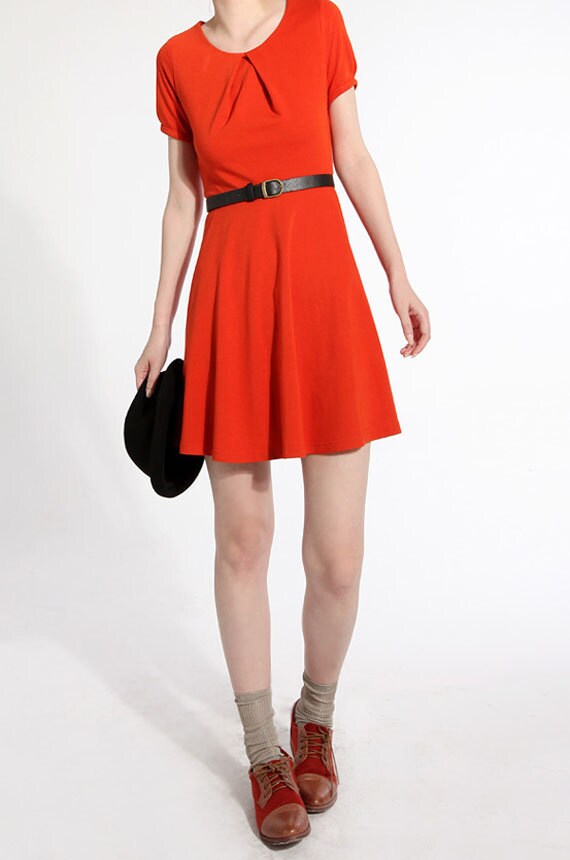 I absolutely love this dress. When I get to my goal weight, this is exactly the type of thing that I would buy or make to celebrate. It is the kind of dress that flatters a thin frame perfectly. It is made of knitted cotton, and has a full zipper closure in the back. The dress is offered in several different sizes, and customer orders (different colours/sizes) are available as well. It sells for $59 USD.
JulyS is owned by "J". It is run by three different women, a general designer/seamstress, a leather designer, and the shop manager. They create several different pieces from dresses to jackets, pants, skirts, and so on.
9. Orange Vinyl 1960's Chair by BethsBeauties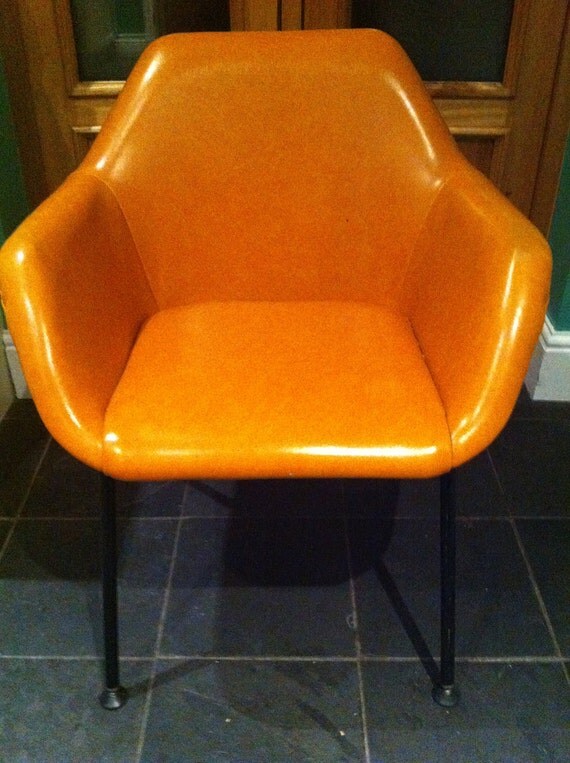 This great chair heralds straight from the 1960's, and would look great in any vintage-inspired room. It is in great condition, and in the words of the shop owner, "has an amazing ability to withstand any marks or dirt as everything wipes off with an effortless touch!" Yesterday's leather. This chair sells for approximately $56 USD.
BethsBeauties is run by Beth Rawson, out of Derby, England. Her shop is full of vintage items. She sells items from "the 1940's onwards... with a heavy emphasis on the 1960's and 70's."
10. Red Orange Lilies Photograph by SomethingtoExpress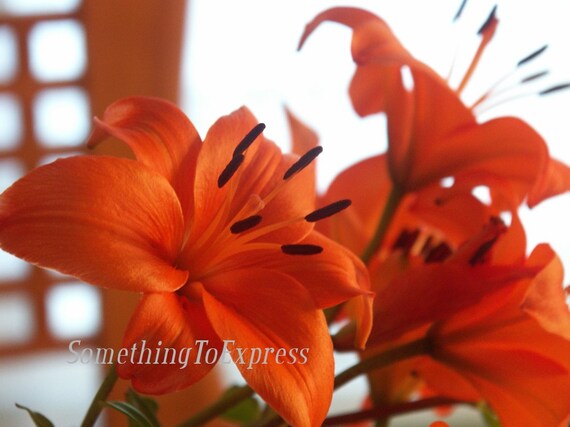 I'm not sure what it is about lilies, but every time I see them I feel myself instantly begin to relax. This beautiful print certainly does the flowers justice - I can feel myself relaxing just writing this! I can easily see this in a chunky white frame, perched on the windowsill in my kitchen. Then, even if the wind is howling outside and the weather is dreadful, I can simply close the blinds and find serenity while looking at this wonderful picture. This particular print is 8 x 10", and sells for $20 USD. It is also available in an 11 x 14" print.
SomethingToExpress is run by Eileen Healey, out of Elmhurst, Pennsylvania. Eileen specializes in photography, painting, ceramics, and mixed media. She has over 25 years of experience teaching art, and is currently including nature photographs, photo notecards, and watercolour paintings in her shop. On the picture featured here she says "My quest as a photographer is to capture the unnoticed and unappreciated fleeting moments in time." She has definitely done a great job in doing so.