HAPPY THANKSGIVING TO ALL OF MY CANADIAN READERS!
And to those of you who aren't Canadian - Happy Thanksgiving in advance. I'm afraid that I likely will not remember when American Thanksgiving. Take comfort in knowing that it is too late for my Canadian readers to purchase these items and use them this year, but you still can!
Every year, our family gets together to celebrate Thanksgiving. Aunts and uncles and cousins come from all over the province (and sometimes the country) to celebrate the weekend together. At the centre of the weekend (often on the Sunday although Thanksgiving is technically on the Monday - it works better for travellers), there is a big turkey meal with all of the stuffings.
As a result, I am featuring posts from
Etsy
again today - this time homemade decorations for the house at Thanksgiving. I hope you enjoy this post, and please be respectful in any comments made toward the artists.
Also - I have received some feedback that you would like to be able to 'get to know' each artist a little better. I may eventually start featuring some individual artists for the Monday Treasures, but for now I'll share what is available about them already. Please let me know if you have any suggestions going forward. (Constructive criticism only please!)
Enjoy!
1. Thanksgiving Banner by inspirationalbanners
(Proper Title: Fall Thanksgiving Give Thanks Banner Garland Word Sign Fireplace Decoration Photo Prop)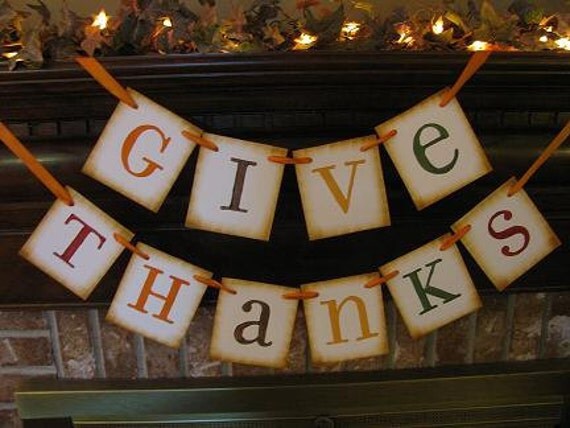 inspirationalbanners is run by Linda Plum, a "wife, mother and an elementary school teacher" hailing from Akron, Ohio. Her shop specializes in these card-style banners, which are available in any colour and with any text you would like. (Fully customizable). She has been running her Etsy shop for almost a year now.
I chose this piece because I could immediately envision it pinned to the wall in the dining room, joyfully announcing the occasion for the meal. In my mind's eye, I see faux leaves pinned in clusters at either end, adding some extra life (because it may look bare on a large wall). I really like the way the artist tinged the edges to give the cards a more rustic look, as well as the choices in colour - obviously inspired by the autumn leaves.
This banner is available in her store for $22 USD, plus shipping of $5 USD (or $3 USD if shipped with another item).
2. Thanksgiving Pillow, by kellee11
(Proper Title: Thanksgiving Primitive Stitchery Fall Give Thanks Pillow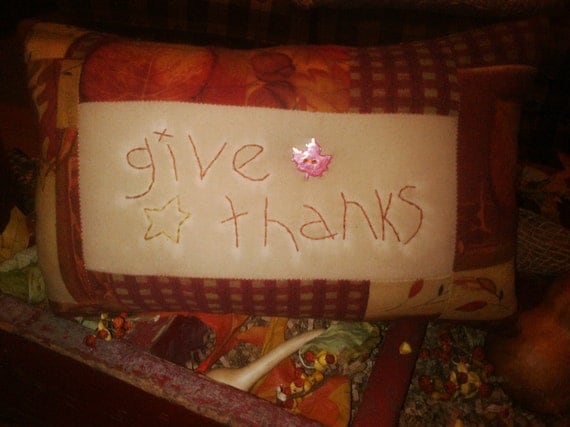 kellee11 is run by Kellee Skrot, who has been creating her treasures for "over 15 years". She says that the primitive look "takes us back to a simpler time and goes well with the antiques that [she's] also began to have an interest in." Kellee is from Pennsylvania.
I chose this piece because as soon as i saw it, I had this strange urge to grab it and just hold it close - hug it. While I'm sure it isn't that big, it just looks so soft and comfortable. I also love the style of embroidery that she has used, and the maple leaf button is a great touch. I would be proud to display this in my home at Thanksgiving!
The pillow is available in her store for $8.95 USD, plus shipping of $4.95 USD (or $2 USD if shipped with another item).
3. Autumn Place Card, by jenAitchison
(Proper Title: Autumn Leaf - Place Card - Thanksgiving - Gift Card - Table Number Card - Menu Card - weddings events)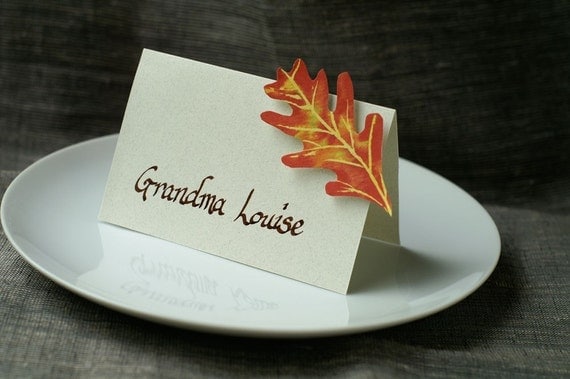 jenAitchison is run by Jen Aitchison (surprise, surprise :P ), out of Porter, Indiana. Interestingly, Jen owns two Etsy shops - one featuring paper goods, and the other featuring fine art and home decor. She and her husband are both artists by trade, and based on the quality of her goods I'd guess that they make a nice living doing so.
The reason why I chose this piece for the list is that it brings a nice, autumn, Thanksgiving-y feel to the table. While placecards wouldn't necessarily be needed for a family gathering, often in a large group there will be some people who merely hang around the edges awkwardly until everyone is seated, waiting to decide where to go. These cards could alleviate that pain and awkwardness associated with such an event.
I also really like the way that she has made the leaves - it is a nice blend of colours, and a perfect cross between a realistic and a cartoon look. Jen has these cards on sale for $15 USD for a pack of 15 cards, plus shipping (cost differs based on your location).
4. Fall Centrepiece, by AWorkofHeartSA
(Proper Title: Fall Centerpiece - Autumn Floral Arrangement with Orange Sunflowers - Thanksgiving Decoration)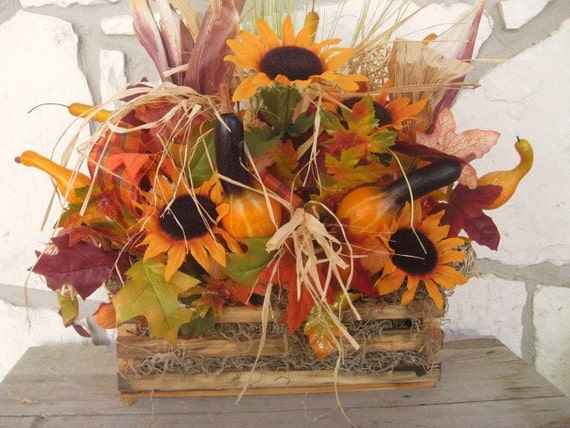 AWorkofHeartSA is run by two sisters out of San Antonio, Texas. They design their arrangements based on different season and events. They have been running their Etsy shop for roughly 1 year now, and feature their work on their blog,
www.aworkofheartsa.blogspot.com
.
Every Thanksgiving table needs a centrepiece. I chose this particular one because it seems to showcase the melding of the seasons - it has the dried leaves that come as summer comes to a close, as well as the cheerful sunflowers of summer. The gourds and the autumn leaves give the piece life and character, and the basket gives the arrangement just the touch that it needs. It would be an amazing choice for a Thanksgiving centrepiece or gift.
AWorkofHeartSA sells this centrepiece for $40 USD, plus $12 USD shipping. They do not ship outside of the United States.
5. Berry Branch Dessert Plate by hopejohnson
(Proper Title: ceramic and pottery - dessery plate - berry branch in dark chocolate brown - thanksgiving decor)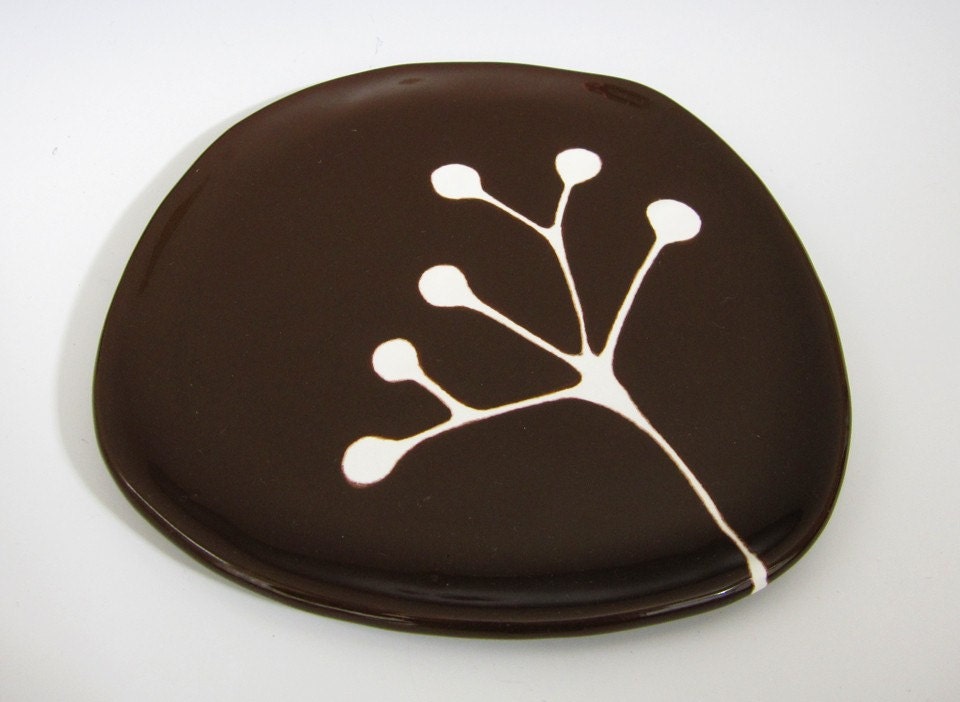 hopejohnson is run by (again, surprise surprise), Hope Johnson our of San Francisco, California. She focuses her work on functional ceramics, however she has also worked in architecture, photography and graphic design. She has pictures of her work at
www.hopejohnson.com
.
I was actually surprised when this piece was labelled as a Thanksgiving decoration, because it didn't seem to suit. However, after I looked at it for a second, I realized how great it would fit in with all of the orange, red and yellow of the other Thanksgiving decorations on and around the table. And after all - the place settings do make up a big part of the table and its appearance. These dessert plates look amazing - and they add a contemporary feel that would be appropriate both at Thanksgiving and other times of the year.
Hope has this plate on sale for $32 USD, plus shipping (differs based on location). She sells her pieces individually.
6. Hand Painted Pumpkin by sg1313
(Proper Title: French Style Paris Apartment Hand Painted White Polka Dot
Pumpkin - Halloween Thanksgiving Decor)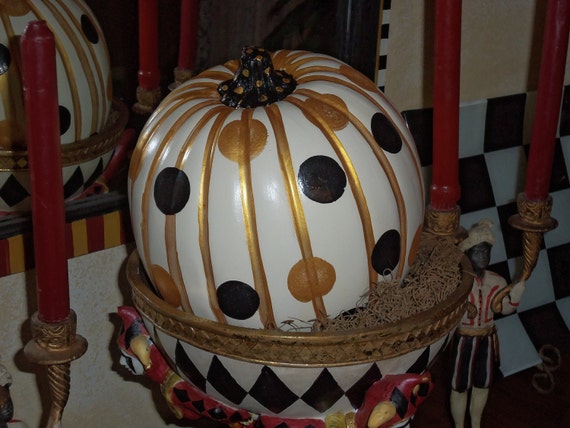 sg1313 is run by Suzette, who lives in smalltown Texas, USA. From what I can tell, Suzette paints everything she can get her hands on - from furniture, to decorations, to...well, pumpkins. She has some very beautiful work that is well worth a look. Suzanne began handpainting items after her kids left home, and says that she "absolutely love[s] it".
This piece would work very well as a transitional item - it could decorate your home both for Thanksgiving and then again for Halloween! It has a nice, neutral colour palette that could shift between the two occasions quite nicely. Suzanne did an excellent job with this piece, from the spacing of the polka dotes, to the nice metallic finish under the even white stripes. She even gave the pumpkin some cute detail on the stem.
Suzette sells this item for $34.00 USD, and requests that you contact her for shipping rates outside of the United States. The pumpkin is made from polyfoam, so it will last many seasons.
7.
Thanksgiving Countdown, by PunkinSeedProduction
(Proper Title: Thanksgiving Countdown Blocks - Turkey and Pumpking with Crow Thanksgiving Decor)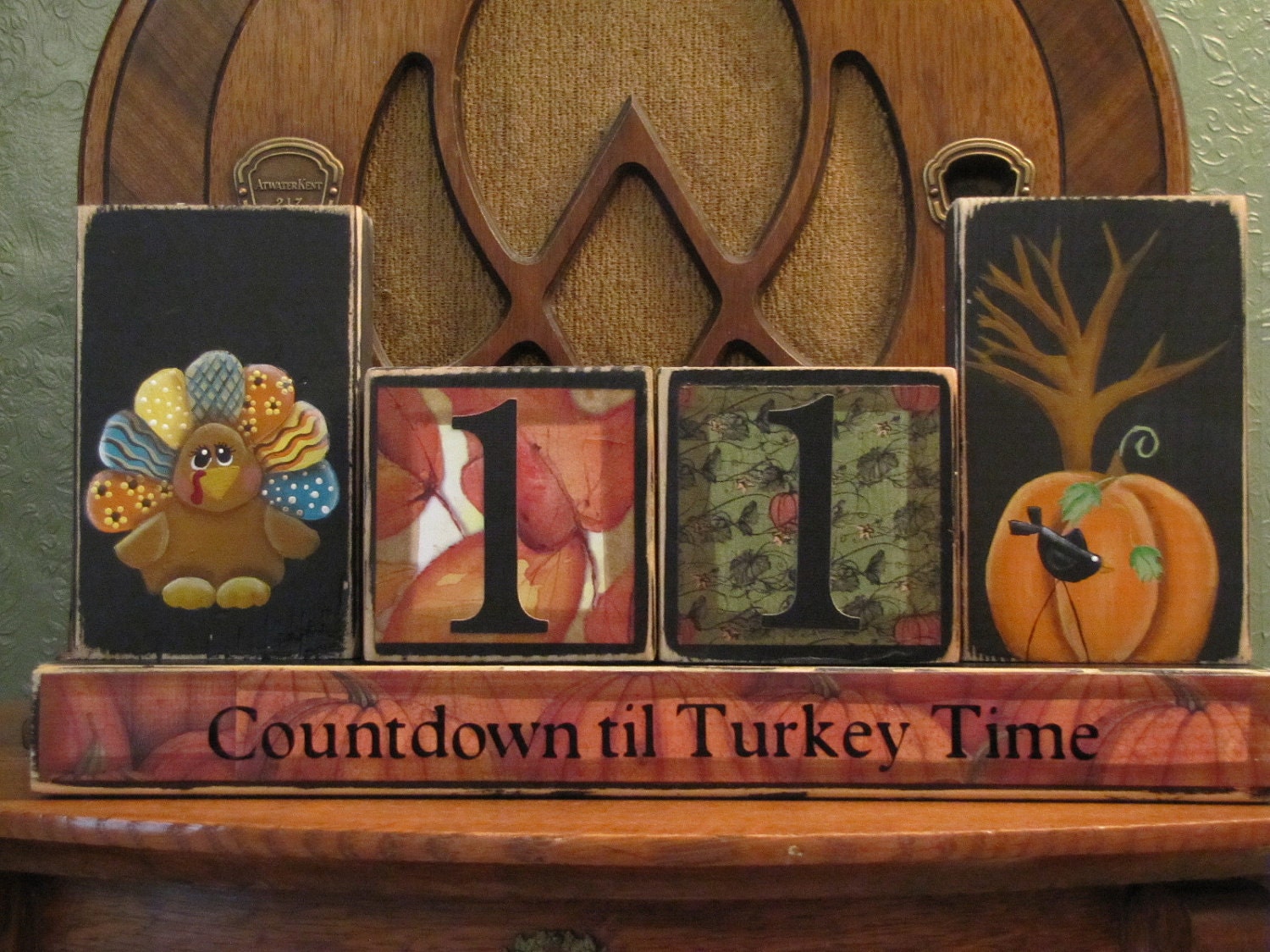 PunkinSeedProduction is by Kristi, out of Baker Lake, OR. She is a homeschool mom, and focuses on painting over other crafts. Much of her work is similar to what you see here.
I chose this item, because it helps raise the excitement for Thanksgiving as much as 3 months in advance (although I probably would set this up about a month before Thanksgiving so as not to run out the summer). It would be so much fun to turn the block every day, seeing Thanksgiving (and hence, friends and family), coming closer and closer!
8. Pilgrims and Indian Trio, by AlwaysinSeason
(Proper Name: Thanksgiving Decor - Pilgrim Boy, Girl and Indian - Great Hostess Gift
)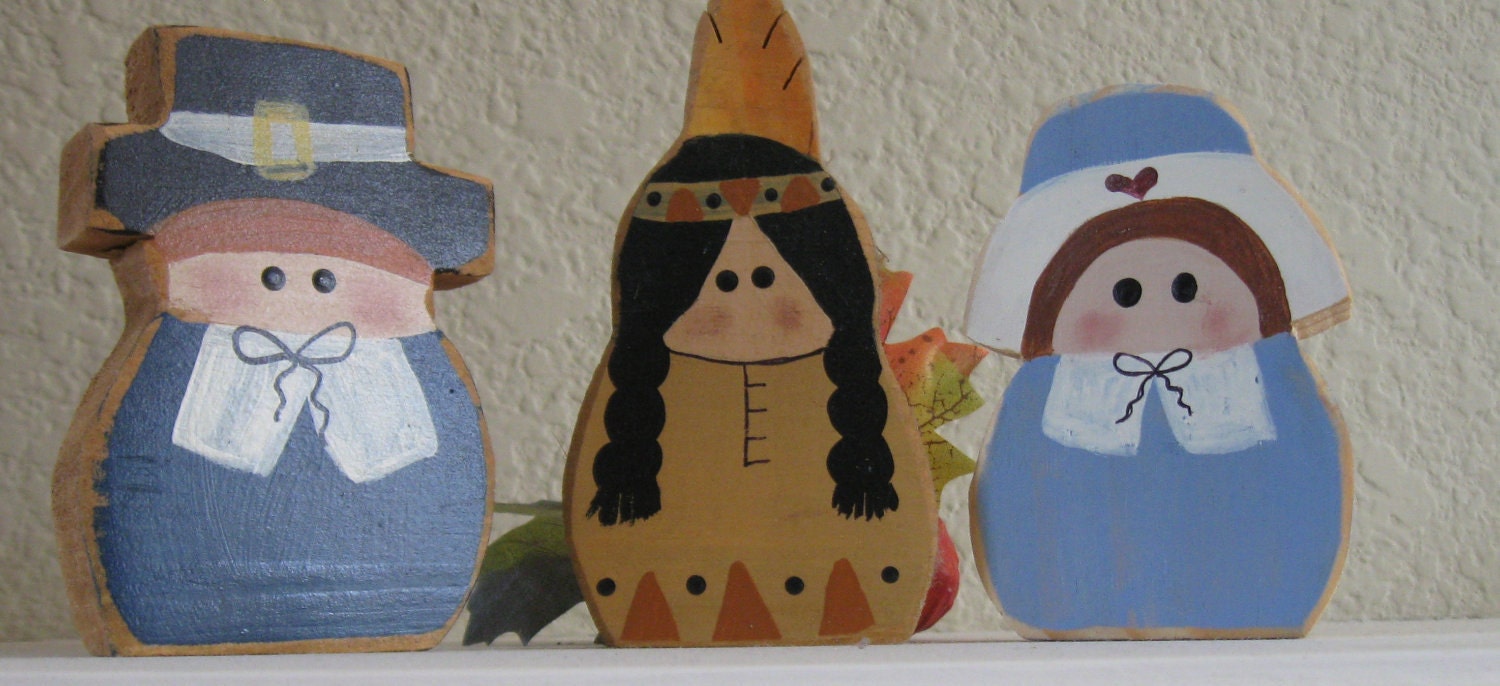 AlwaysinSeason is run by Jen, who hails from Fairfield, CA. She has been crafting for over 20 years, and sold her goods primarily in fairs and boutiques. Jen focuses on painting items, and uses all sorts of things as inspiration, including items found at garage and estate sales.
Thanksgiving is about spending time with your family and friends - there is no question. But not many people think about the actual reason behind celebrating Thanksgiving. While Canadian Thanksgiving is not about the pilgrims like the American one is, (Canadian Thanksgiving is about finishing the harvest), the story still is part of all of our upbringing.
Jen sells this set for $6.50 USD, and ships within the United States only.
9. Pumpkin Garland, by wishdaisy
(Proper Name: Long Pumpkin Garland Autumn Home Decor for Harvest, Halloween, and Thanksgiving Decoration - 4 feet)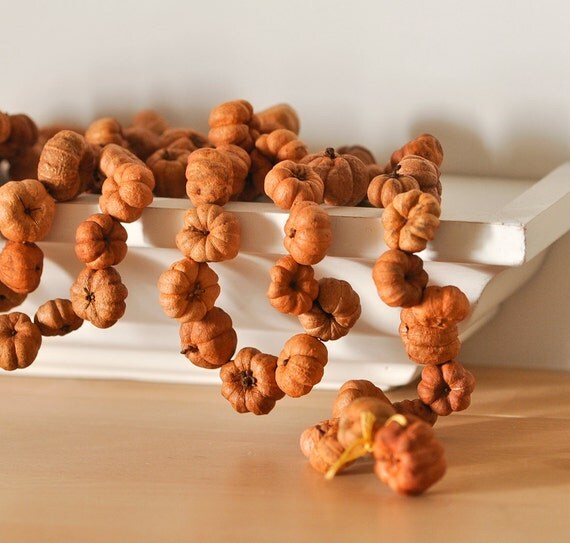 wishdaisy is run by Stacey, out of Sarasota, Florida. Stacey dabbles in many mediums, and the evidence is in her shops - she runs three. Her first shop is of "polymer clay jewelry, accessories & home decor", her second shop is of "playful critter photography", and this, her third shop, is full of "party planning decor". Crafting must run in her family, because her mom and grandmother run a combined shop as well.
I chose this piece because it would look really cute in almost any home. If you have a fireplace it could be draped across the window. If, like us, you have a nice big window in your dining room, you can drape it across the sill. You could even have this draped over the fan for your stove. According to Stacey, these are actually "dried Putka pods, which have a stiking resemblance to tiny pumpkins". I imagine this would be very delicate, but if stored right could last more than one season. Stacey is selling this item for $27 USD, plus $4.95 USD shipping, or $1 USD if shipped with another item.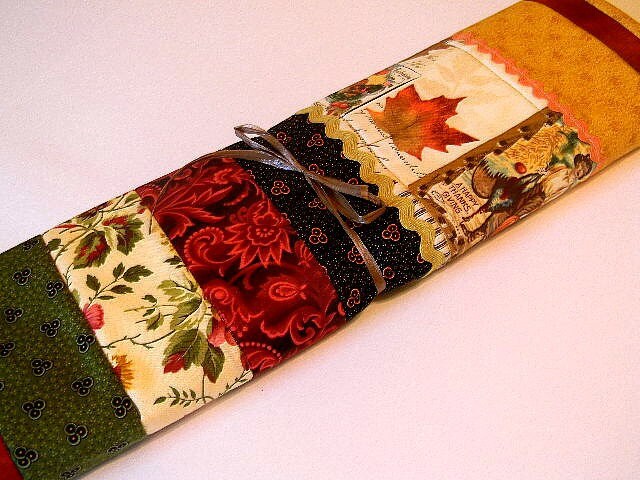 SheissewcrazyToo is run by Morgan Lemaota, out of Murfreesboro, TN. A busy mother of six (all boys), she spends any free time she can find at the sewing machine. She has two Etsy shops, this one that features household items, and another that focuses on baby and children's items. In both her shops, she works to ensure that the items are practical and easy to care for.
No Thanksgiving table is complete without a table runner. This one captures all of the colours of fall and Thanksgiving, while adding a bit of a whimsy feel with wavy ribbon and floral fabric. At 32.5 x 20", this is the perfect length to stretch across the table.
Morgan is selling this for $30 USD, plus $7 USD shipping (or $5 USD with another item).